Opinary is a revolutionary way for newsrooms to start conversations with their readers, and listening is just as important as asking the questions. That's why we make it easy for you to analyse your users' opinions at a glance, and offer several ways for you to take a deeper look at what they're telling you.
1. Results at a glance

As soon as a user votes on an Opinary poll, they are given an instant breakdown of the results. On the speedometer, each dot represents a percentage point, so it's easy to see the distribution of votes at different points in the scale. This is a great way to find out how strongly your readers feel about specific issues, and which opinion leaders they identify with the most.
2. Poll analytics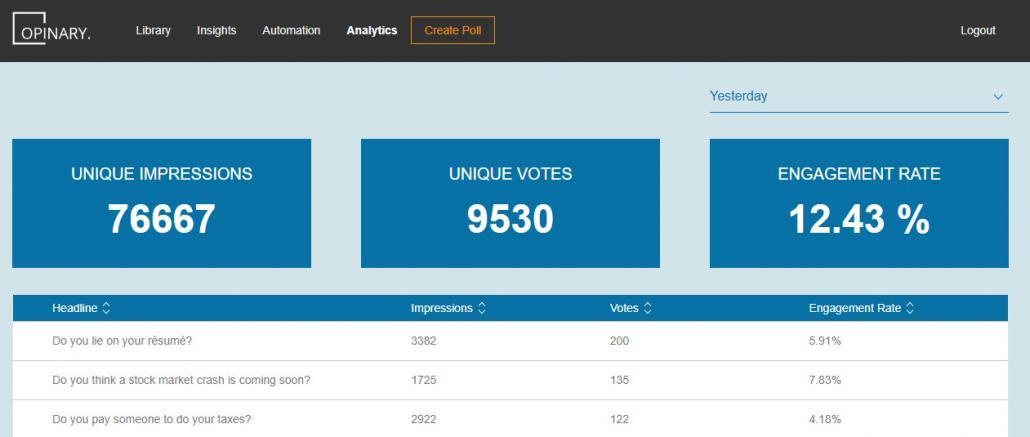 So you know what your readers are thinking, but was your question engaging enough? Did they care enough about the topic to vote? Every Opinary publisher has access to an Analytics Dashboard which allows them to assess the performance of individual polls. This will allow you to keep track of all the polls you used, and make changes to any you think could be improved.
3. Insights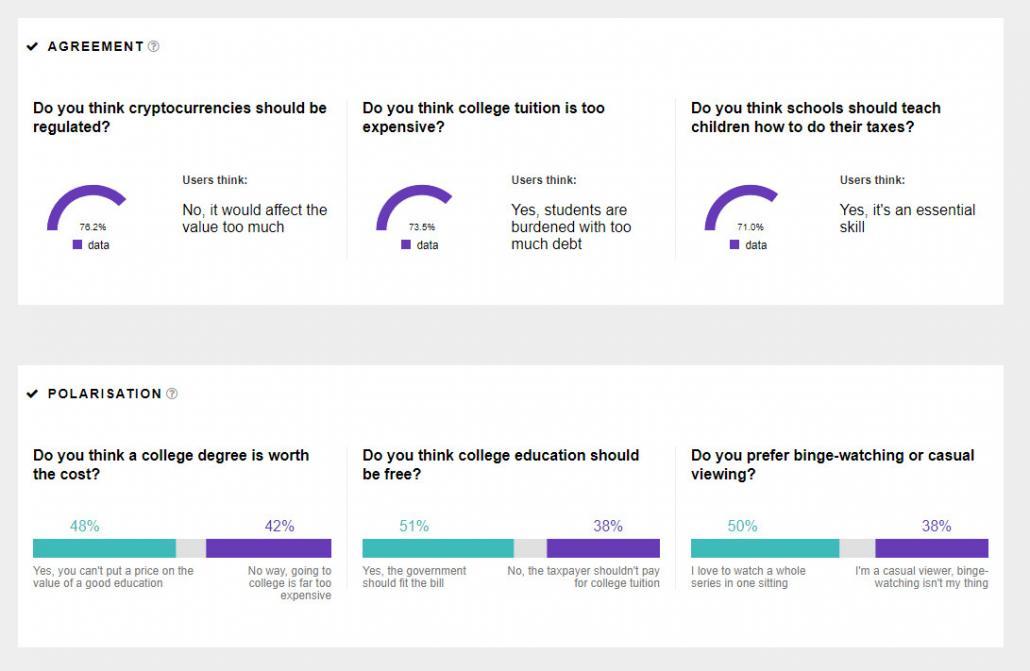 Another resource we provide is our Insights Dashboard – it offers an overview of audience sentiment. You can use this to see what your audience agrees on, what they disagree on, and how their opinions have changed over time.
We also have an in-house data science team who can provide even deeper insights, for a range of purposes including special editorial projects, audience analysis, and content generation.
Your readers will love to see that you're listening, so why not write an article about the interesting insights you've gained from your Opinary polls?
Reach out to your Opinary representative or use our contact form to see how we can help you.
https://opinary.com/wp-content/uploads/2018/06/Insights.jpg
711
1091
Ryan Barrell
https://opinary.com/wp-content/uploads/2019/11/Logo-web-2019-01-300x137.png
Ryan Barrell
2018-06-20 14:50:41
2018-06-22 12:59:12
How to analyse the results of your Opinary polls