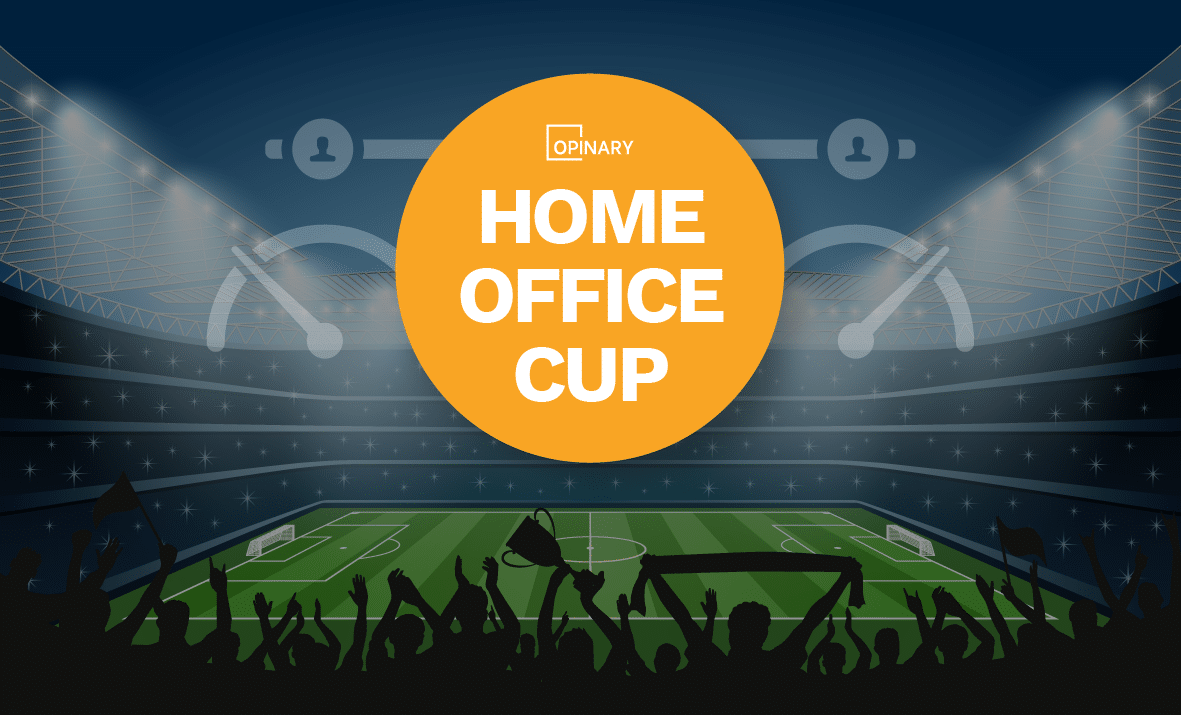 After many weeks and months of working in the home office, even the most introverted among us can start to feel a little isolated. You miss the contact with your colleagues and the daily grind gets to you. The last few months have been grey, cold and hard – why not counter the home office grind with a little fun and joy? And what could be better than a competition among colleagues?
To remind our colleagues that it is important to be there for one another, especially in lonely times and to make the best out of the current situation.
The inaugural Opinary Home Office Cup
The task for our colleagues
Take a photo of your most beautiful, cosy, creative or pet-friendly home office spot, which will then compete in three rounds against the photos of your fellow colleagues. Opinary will donate to charities selected by the overall winner, 2nd and 3rd place.
More about who won and which charities the winners chose, later. First of all, we would like to take a closer look at some of the fantastic home office photos submitted by our colleagues.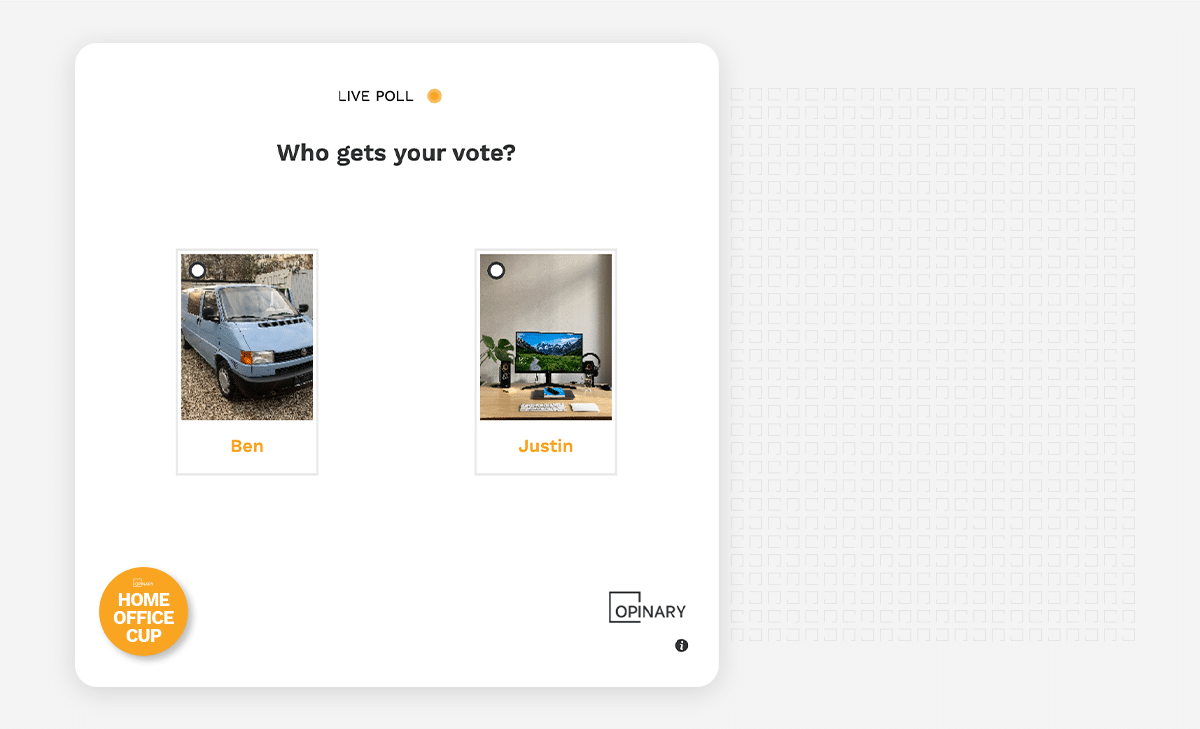 Our Finance Lead Ben probably has the coolest home office ever: And it's on 4 wheels! The T4 is still very new in his possession and has not been used much so far, but he has assured us that as soon as the days get longer and warmer, his mobile home office will be used more and more. We are already very jealous to see him in our meeting-calls sitting in his T4, with the beach in the background. 
Our colleague Falko, on the other hand, resorts to rather unfair means: We are not at all sure whether this is really his workplace or rather that of his assistant Pingu! What do you think?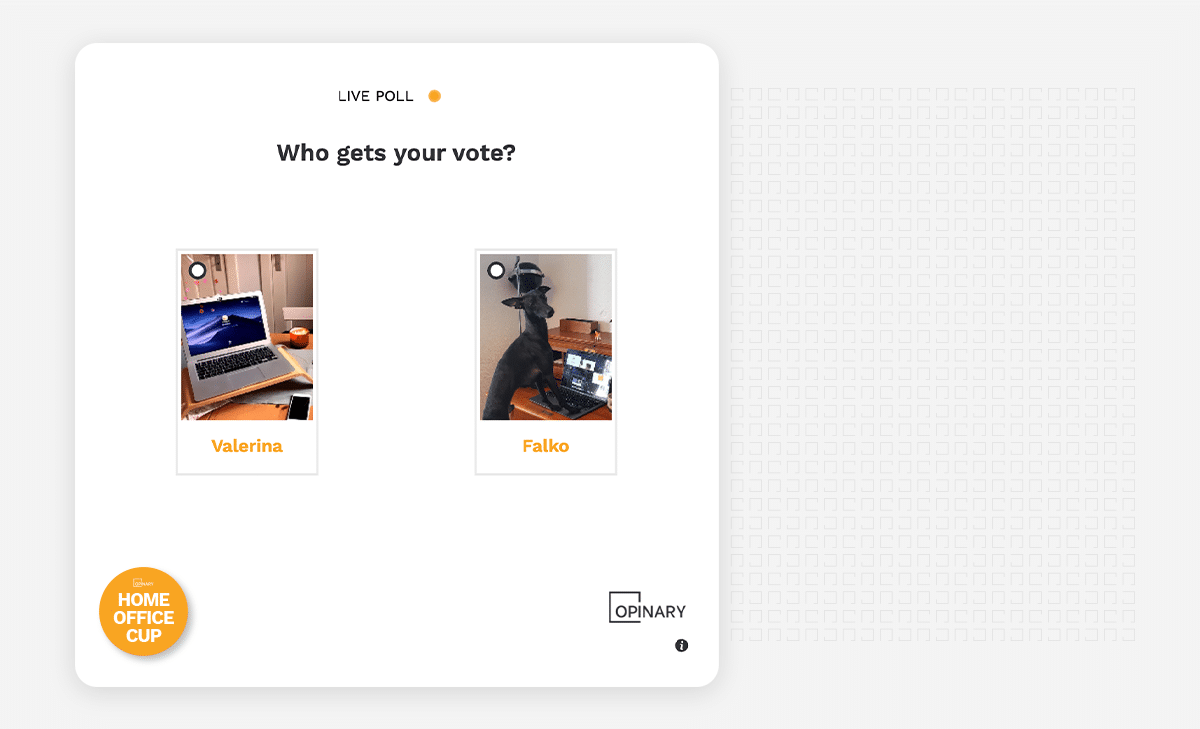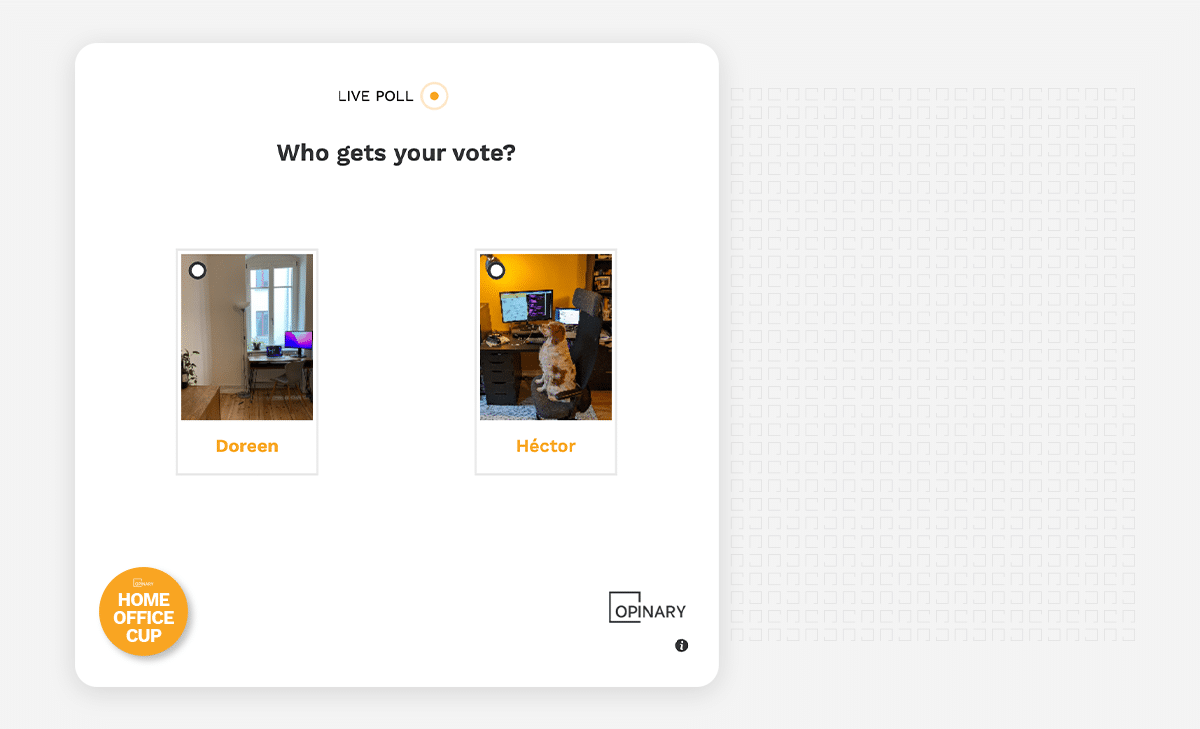 Data Scientist Doreen was certainly sure; with high ceilings, wooden floor and the charm of an old Berlin building, she would definitely clinch the cup… Unfortunately, she didn't include her colleague Héctor in her calculations… Because Héctor also resorted to underhand pet-showcasing tactics.
Mark, on the other hand, thought: What's more attractive than the sweetest cat in the world and a few bottles of beer? Could he perhaps prevail against the home office chaos of our colleague Julia and possibly win the Home Office Cup?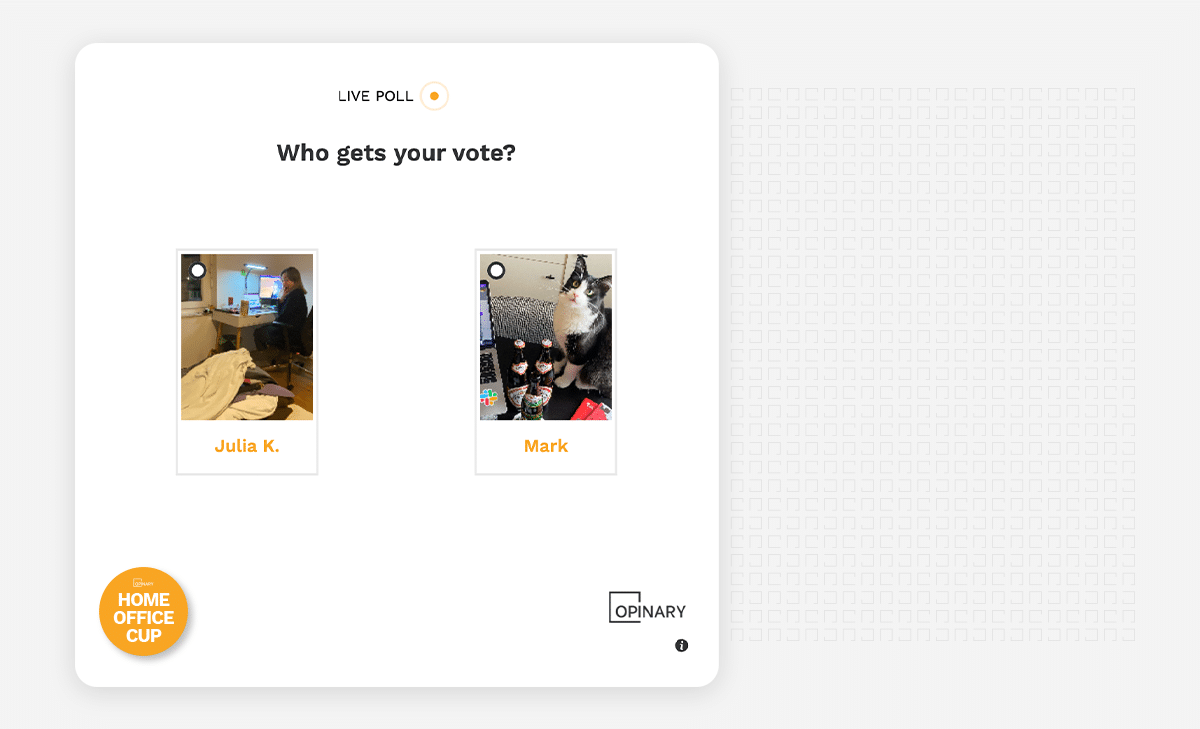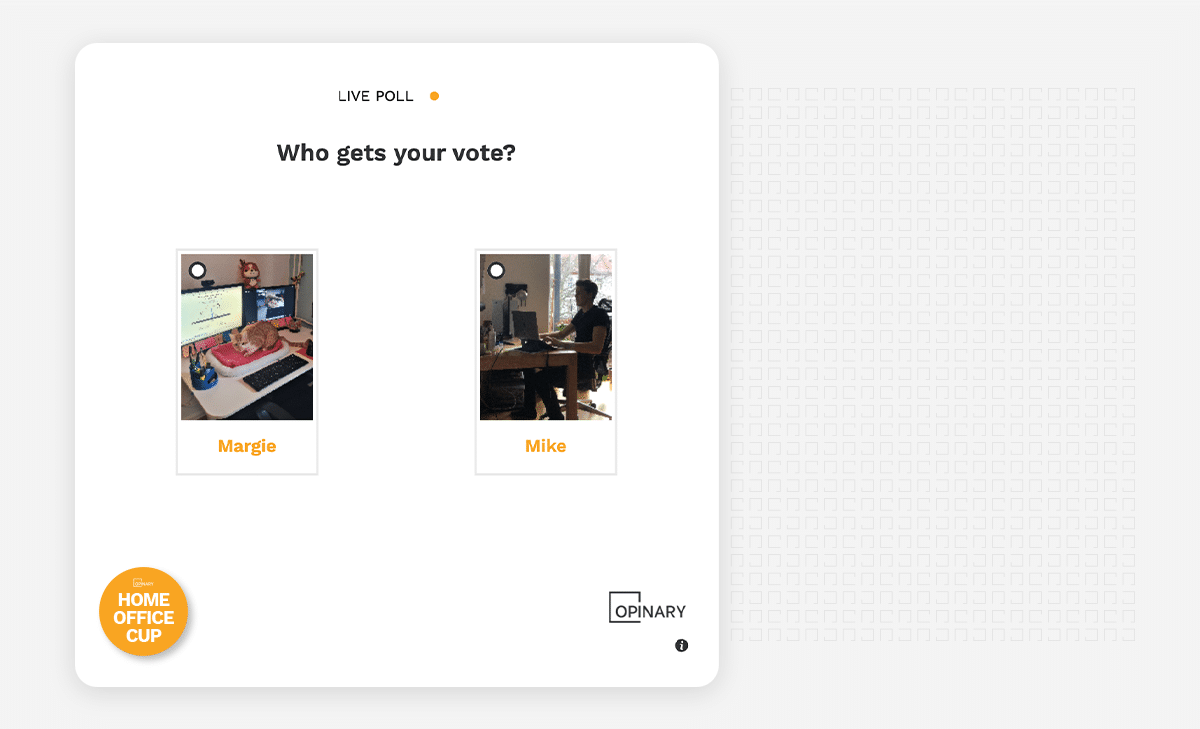 Margie thought to herself, what Héctor, Falko and Mark can do, I can do better. She not only placed her cat near her workplace, but right on top of it! Should we believe her when she says the cat always lies there like that?
Our colleague Julia thought: "Magic mirror in my hand, who is the funniest in the land?" Unfair means can also be used without a fluffy four-legged friend – And therefore she decorated her laptop with the statement: "I don't have a cute pet to win with". How far could she get in the Home Office Cup with wit and humour?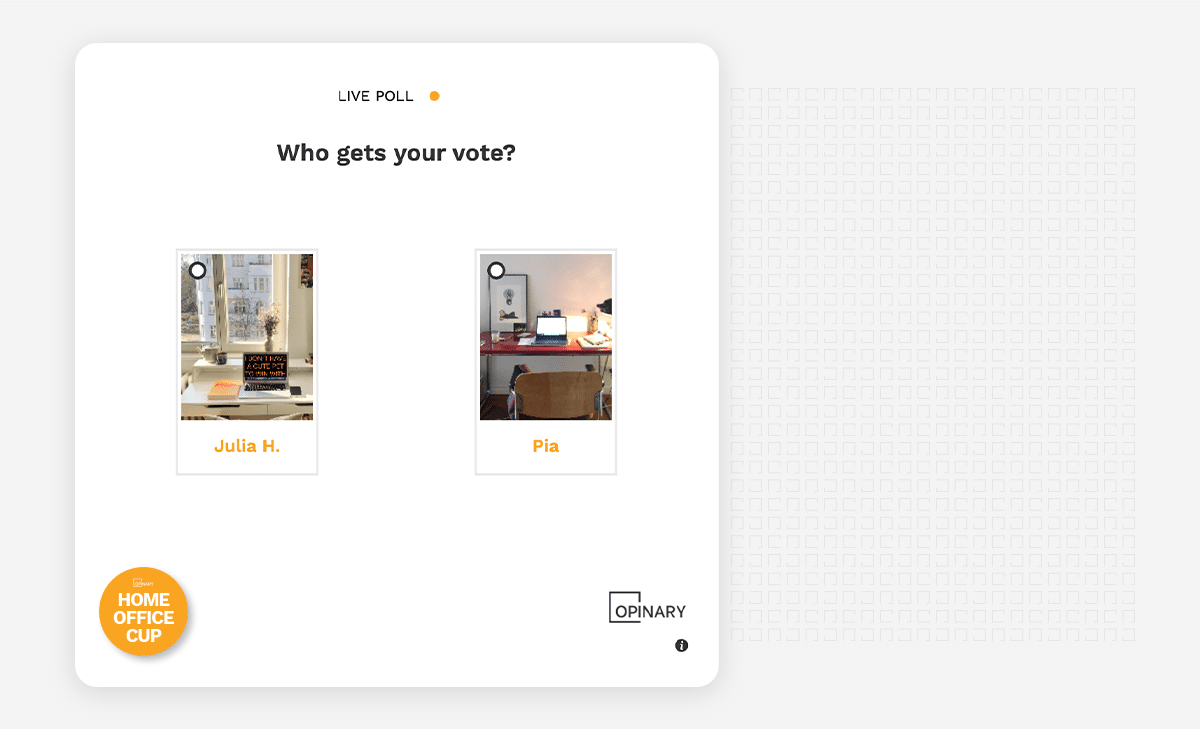 But so much for the fascinating home office situations and battles between colleagues. We now want to talk about the final, the winners and what we achieved with the Home Office Cup.
22 colleagues took part and shared their coolest home office spot with us.
The landing page was visited by 400 unique users
A total of 2,000 votes were cast
Donations were made to 3 wonderful charities in the name of the 3 winners.
In the final, after 3 tough and competitive rounds, Héctor, Margie and Julia faced each other. As was to be expected, Héctor and Margie were able to impress with their sweet four-legged friends. Julia's witty prediction had come true, of course a photo with a pet would win! In the end, it wasn't quite enough for Julia's creativity to take the crown as she came home in second place. Margie beat her by just 3% to take the title, while Héctor claimed 3rd place.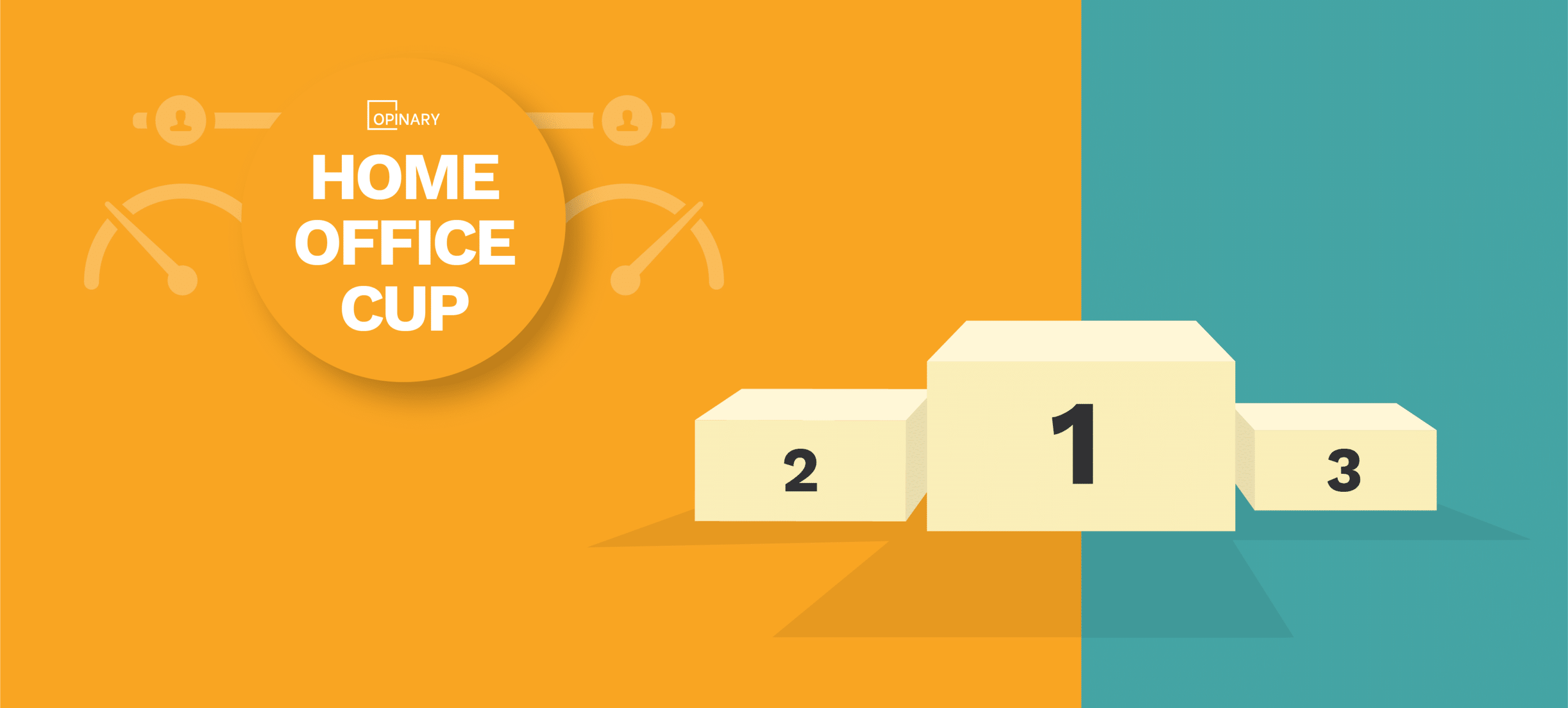 Even though there is only one true winner, 2nd and 3rd place also got to choose charities to donate to in their name.
Hèctor has a strong passion for playing chess, and wanted to share his love of the game with people who are not as fortunate. Therefore, he selected the charity "Chess in Slums Africa". Chess in Slums was founded in 2018 with the aim of using the game of chess to free children from the endless loop of poverty and social contempt. We think this is a beautiful choice with a great personal touch!

For the occasion, Marketing Manager Julia has decided to donate her contribution to Caritas International, who use the funds raised to support those suffering in Ukraine, providing warm meals, blankets and a sheltered place to sleep. Caritas International prepared for the situation weeks ago by creating emergency shelters, packing food parcels, providing water canisters and hygiene items. But what is important to say here is that Caritas International not only helps on a material level, but also provides social workers and psychologists who are specialised in working with war-traumatised people.

Margie also wants to use her donation to help the people of Ukraine. Her donation goes to "Aktion Deutschland Hilft". Aktion Deutschland Hilft is an alliance of renowned German aid organisations who help people in need across the world after major disasters. The aim of the alliance is to achieve an even more efficient use of donations to provide joint, rapid and coordinated aid to people in need.