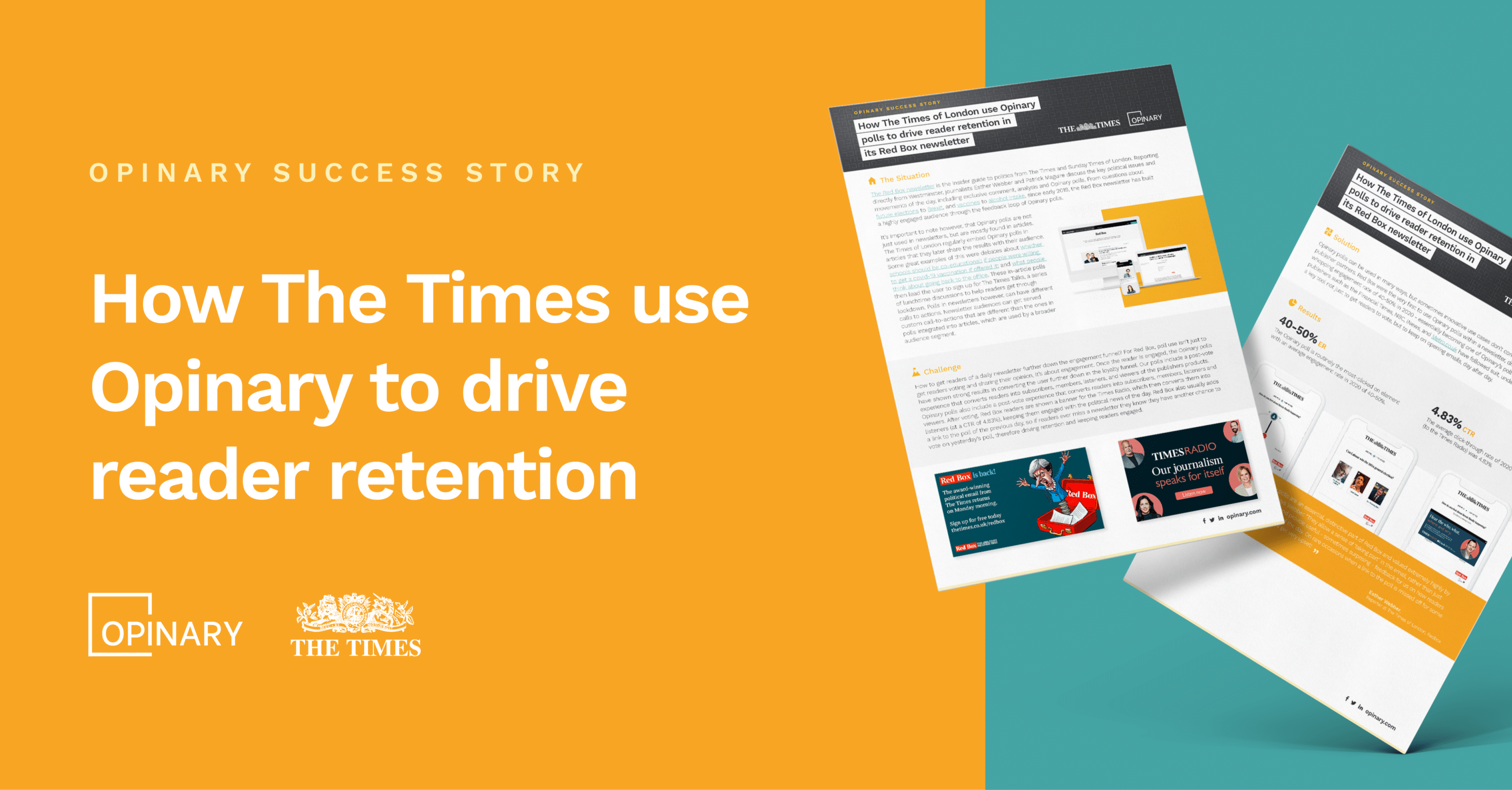 Situation
The Red Box newsletter is the insider guide to politics from The Times and Sunday Times of London. Reporting directly from Westminster, journalists Esther Webber and Patrick Maguire discuss the key political issues and movements of the day, including exclusive comment,  analysis and Opinary polls. From questions about future elections to Brexit, and vaccines to alcohol intake, since early 2019, the Red Box newsletter has built a highly engaged audience through the feedback loop of Opinary polls.
It's important to note however, that Opinary polls are not just used in newsletters, but are mostly found in articles. The Times of London regularly embed Opinary polls in articles that they later share the results with their audience. Some great examples of this were debates about whether schools should be co-educational; if people were willing to get a covid-19 vaccination if offered it; and what people think about going back to the office. These in-article polls then lead the user to sign up for The Times Talks, a series of lunchtime discussions to help readers get through lockdown. Polls in newsletters however, can have different calls to actions. Newsletter audiences can get served custom call-to-actions that are different than the ones in polls integrated into articles, which are used by a broader audience segment.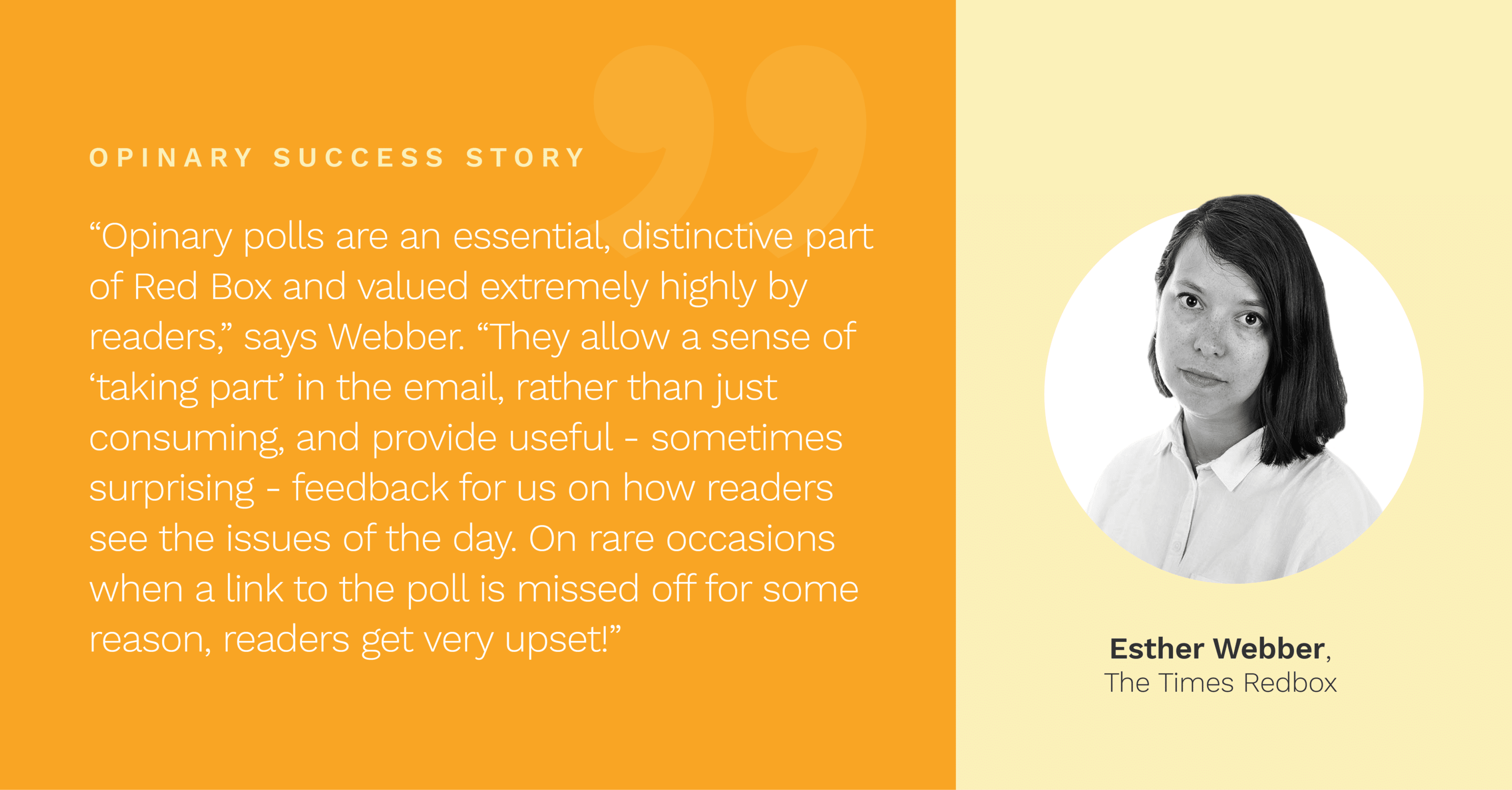 Challenge
How to get readers of a daily newsletter further down the engagement funnel? For Red Box, poll use isn't just to get readers voting and sharing their opinion, it's about engagement. Once the reader is engaged, the Opinary polls have shown strong results in converting the user further down in the loyalty funnel. Our polls include a post-vote experience that converts readers into subscribers, members, listeners, and viewers of the publishers products. Opinary polls also include a post-vote experience that converts readers into subscribers, members, listeners and viewers. After voting, Red Box readers are shown a banner for the Times Radio, which then converts them into listeners (at a CTR of 4.83%), keeping them engaged with the political news of the day. Red Box also usually adds a link to the poll of the previous day, so if readers ever miss a newsletter they know they have another chance to vote on yesterday's poll, therefore driving retention and keeping readers engaged.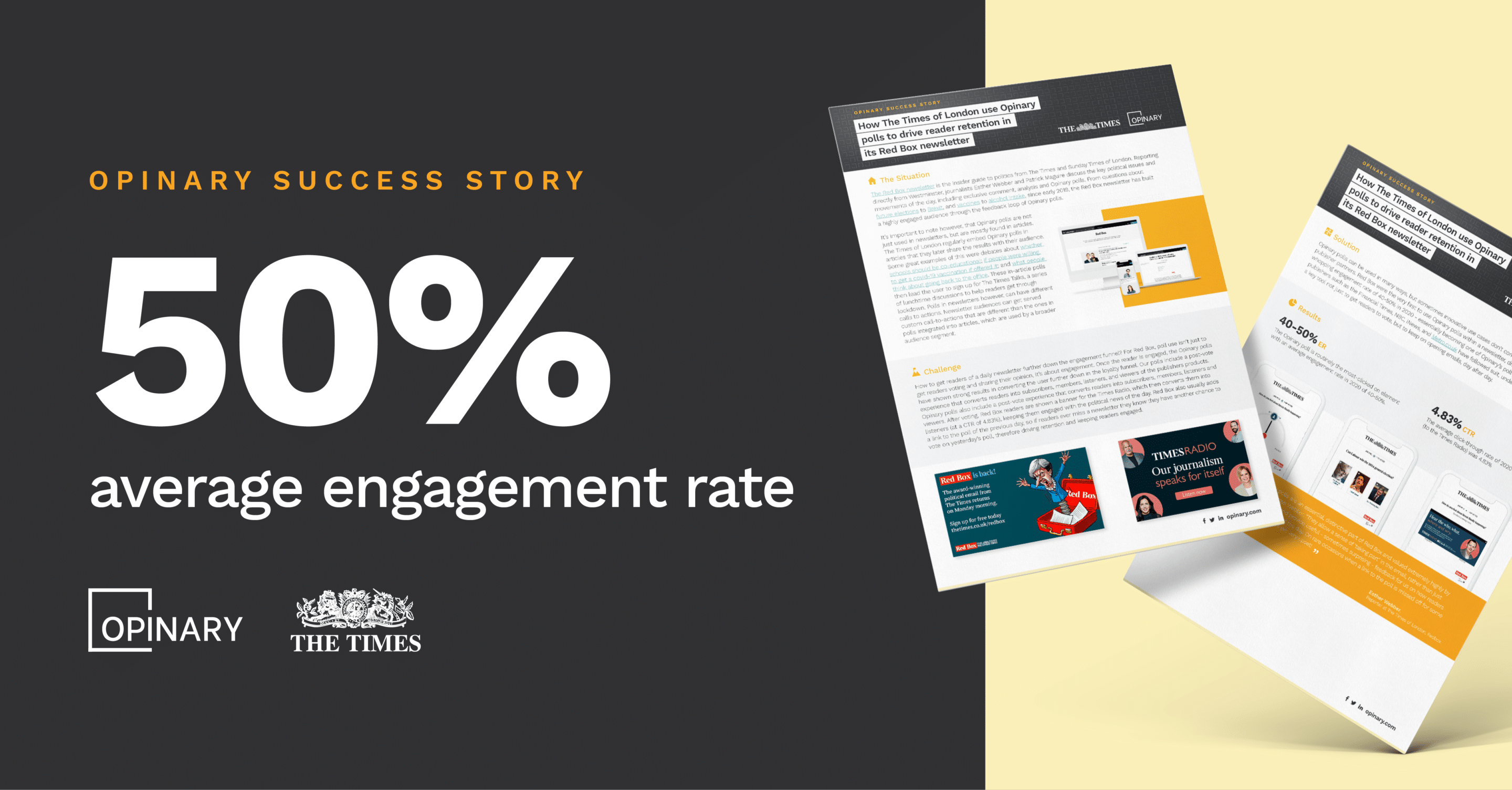 Solution
Opinary polls can be used in many ways, but sometimes innovative use cases don't come from us, but our brilliant publisher partners. Red Box were the very first to use Opinary polls within a newsletter, driving engagement with a whopping engagement rate of 40-50% in 2020 – essentially becoming one of Opinary's poll pioneers. Many other publishers such as the Financial Times, NBC, iNews, and Metro.co.uk have followed suit, understanding that polls are a key tool not just to get readers to vote, but to keep on opening emails, day after day.
So, how do Opinary polls compare to other elements in the newsletter? According to Esther Webber, Opinary polls are the most-clicked on element in the newsletter. "Opinary polls are an essential, distinctive part of Red Box and valued extremely highly by readers," says Webber. "They allow a sense of 'taking part' in the email, rather than just consuming, and provide useful – sometimes surprising – feedback for us on how readers see the issues of the day. On rare occasions when a link to the poll is missed off for some reason, readers get very upset!"
Download the case study here.